BY JAIMEE ZANZINGER – PHOTOGRAPHS BY IKE EDEANI  View article >
The singer-songwriter and tastemaker pulls out all the stops when visitors come stay at her painstakingly renovated home.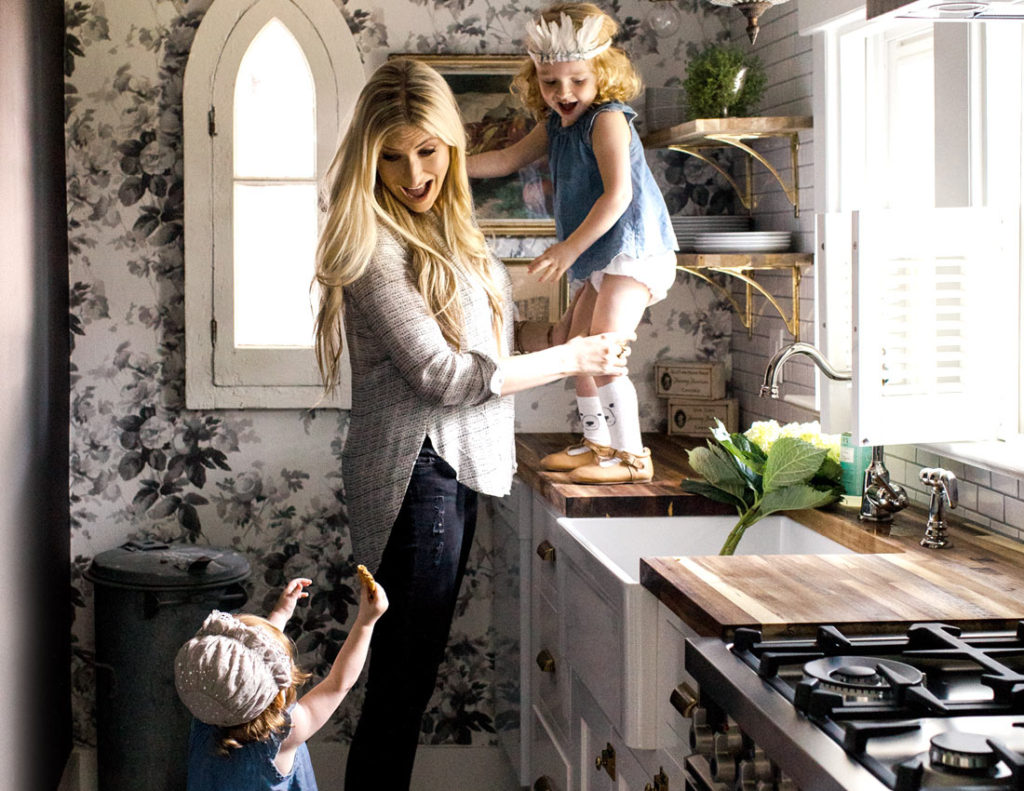 I love the way old houses tell stories," says Holly Williams, the Nashville, Tennessee–raised singer-songwriter and mom of Stella June, 3, Lillie Mae Louise, 18 months, and Arlo Gale, 4 months, with her musician-artist husband, Chris Coleman. "I adore rooms brimming with the happiness and tragedy, laughter and tears, of the generations who loved, lost, and lived there.
Built in 1892, the historic Carl Sweeney House in the Franklin, Tennessee, village of Leiper's Fork (population: 650) set the scene for a particularly eventful chapter in Williams's life. As a 25-year-old, she rented the 1,200-square-foot cottage and worked at the sandwich shop next door between performances. Recalls Williams, granddaughter of the late country icon Hank: "It was a dreamy time."
A pair of Gibson guitars hangs in the music room. Williams (with her family), who is working on her fourth album, hopes people will be "inspired here, whether to write, paint, or play guitar. We're creative people, and we want to spread that around."
Neutral-hued vintage plates and mirrors, found on eBay and at antiques malls, evoke a Southern sensibility, says Williams: "I love the mystery behind who dined with the old plates." The beadboard is painted in Sherwin-Williams's Tricorn Black.
In the entryway, she color-matched Farrow & Ball's Pink Ground ($127 per gallon) with Sherwin-Williams's $36 version "to save some dough" and papered the ceiling with Cole & Son's cloudy Nuvolette print. The sign above the door is from local antique shop Serenite Maison.
"A big white bed is inviting," shares the mom, who paired linens from Target with pillows from Pottery Barn. A West Elm rug covers the floor.
When the tin-roofed home came on the market, 36-year-old Williams co-purchased it in 2016 with resident preservationists Aubrey and Michele Preston. "It's too small for a family of five," jokes Williams, "but I wanted to turn it into a cozy, curated rental property."
"I hope we can welcome families and couples craving quiet and restorative time and children craving a slice of the country," says Williams.
After gutting the kitchen and bathroom, Williams—owner of three White's Mercantile general stores, plus a 140-square-foot "White's Mercantiny" outpost in an old smokehouse next to Sweeney Cottage—applied her designer's eye to the decor. "I wanted it to feel like home mixed with lots of items from antiques malls and modern pops," she explains. "I loved mixing the old and new."
On a chalkboard paint–covered kitchen wall, Williams writes a special greeting to each guest along with nitty-gritty info like the Wi-Fi password.
To that end, Coleman's signature cowboy sketches mingle on the walls with black-and-white historical images of the town. Says the mom: "I wanted to give the home a sense of redemption, to honor the people who long ago donated their blood, sweat, and tears to build the structure when times were harder."
Williams ensured the home's interior will hold up to its current inhabitants. In the kitchen, she installed butcher-block counters for less than $300 ("they will be aged and cool when they get beat-up," she says) and piled break-proof melamine glasses from World Market on open shelves. Gray TEC Silverado grout keeps the subway tile looking cleaner longer alongside House of Hackney's London Rose wallpaper.
The first of four properties (and counting!) she plans to list under the White's Mercantile Room and Board banner, the space holds trinkets visitors can buy from her stores. But the true highlights are the personal touches inspired by Williams's maternal grandparents, Warren and June White (namesakes of the shops). "They had huge holidays. We had supper at noon around the big table after the bell rang at their home in Louisiana," says Williams, who caters to vacationing families with an eight-person farmhouse table from Scarlett Scales Antiques, games including Yahtzee and Apples to Apples, and a fire pit surrounded by Adirondack chairs out back. She also provides an heirloom-worthy Staub cast-iron cocotte, KitchenAid knives, and her favorite cookbooks. Those down-home comforts, notes Williams, will turn new guests into old friends.
view article