The musician, store owner, and granddaughter of Hank Williams offers AD a glimpse into her happy home life in Tennessee
Text by ANTONINA JEDRZEJCZAK  view article >
As the granddaughter and daughter of country legends Hank Williams, Sr. and Hank Williams, Jr., it's safe to say that Holly Williams, a successful musician herself, has Southern folk in her blood. But there's much more to the crooner than creating music. Williams opened H. Audrey, a fashion outpost carrying top luxury designers, nine years ago and recently launched White's Mercantile, a modern general store with a décor slant that's massively popular with the residents of her home state of Tennessee. A busy mom of two small girls—two-year-old Stella June and seven-month-old Lillie Mae—with husband Chris Coleman, Williams still finds time to pursue her love of antiquing and house flipping (farmhouse, to be exact). With a White's Mercantile set to open in Arkansas next spring and an ambitious bed-and-breakfast enterprise in the works, Williams spoke with AD about her own decorating style, the lasting legacy of her maternal grandparents, and the best gift she's ever received.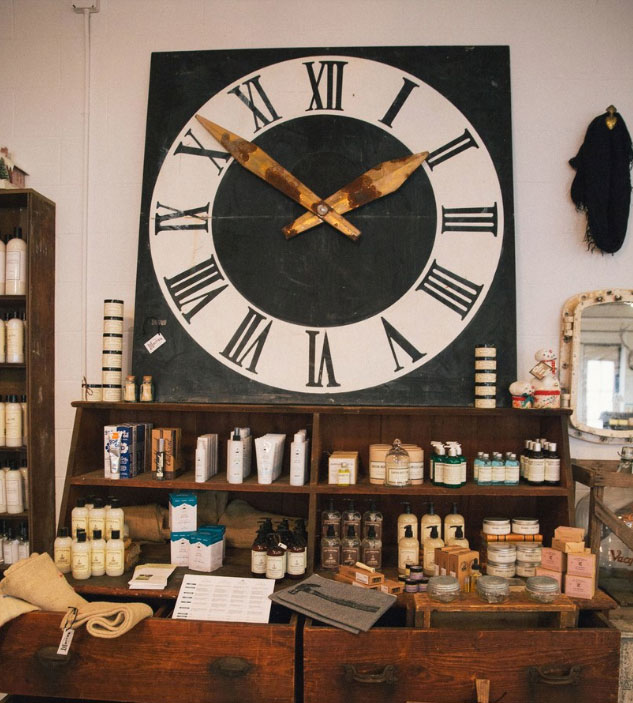 Tell us a bit about White's Mercantile. I'm really passionate about the modern mercantile store. It's named after my maternal grandparents. The Hank Williams side is always so focused on, but my maternal grandparents from Louisiana were very eclectic, cultured people for their time. I was really inspired by them and their design aesthetic, and my great grandfather had a mercantile. When I'm on tour, I'm able to find anything from an old wooden spoon to some fabulous olive oil or beard oil and put it in the store. I'm excited to say we are opening another location in a fabulous small town called Wilson in Arkansas in May.
How would you describe your personal decorating style? I love to create warmth and spaces that feel collected. My favorite thing in décor is modern-meets-Southern. In our house, we have these great brass shelves that are usually used in retail stores. They look very modern alongside black cabinets and our cream-colored stove. I also have my grandmother's oil paintings everywhere. And I love to mix Lucite with club chairs that are falling apart. I also love to travel to antique malls and find goodies, or just find antiques from family—pictures and letters. For me, it's all about mixing the old and the new, and creating something that feels lived in, with furniture that's beautiful but you feel that you can actually sit in it.
Being from such a storied musical family, and a musician yourself, does music directly influence your decorating style? Curating is my passion. To me, creating a song in the studio with base, and drums, and guitar, or creating a room with curtains, and fabrics, and paint is all design. In the studio, when one instrument is harsh, you lighten it up by adding something else. So that translates to how I approach design—I love a black lacquer room with something feminine and soft to let it breathe. The great musicians that I know also have other passions, a love for creativity.
What are some of your favorite antique markets? Scott's Antique Market in Atlanta and Ohio happens once a month and has unbelievable deals. There are many French and overseas vendors coming over, so I get stunning oil paintings at 80 percent off the regular price. That's where I get my leather club chairs and kitchen pieces. The Round Top Antiques Fair in Round Top, Texas, is also one of the best. In France, I go to Marche. I don't really have days off anymore, but in my former life I used to love to hop in the car and take a Saturday to just drive. In Tennessee we've got many antique markets on the side of the road, but you have to pick through what's crap and what's legitimate.
What's the best thing you've found recently? At Scott's, I found the most beautiful, old Italian mirror with a 1780s newspaper on the back that's falling off. It's hanging in my kitchen and I almost want to flip it around and show the back of it.
Any other standout deals? Well, we bought a farmhouse on Craigslist. It was the greatest find of my life! Someone told me that every now and then you can find real estate on Craigslist. I searched for a white farmhouse and there it was. It was so unbelievably cheap—these people did not know what they had. We got eight acres and a pre-Civil War farmhouse that we've been renovating for about a year. It's in Tennessee, about an hour south of Nashville.
What's your favorite piece of art in your house? My husband, Chris Coleman, is an incredible artist. It really came out of the blue—he was a musician forever, and with the Kings of Leon for years—but our schedules got too crazy when our first daughter was born. He delved into the art world and does these incredible black-and-white oil paintings. My favorite in our house is a painting called Horse by the River.
What's always on your bedside table? Besides diapers, I've actually found time to start reading again, so I'm trying to do a good book every two months. Right now, it's one called Overwhelmed: Work, Love, and Play When No One Has the Time.
Are you listening to any music on repeat these days? It's funny, even though I grew up in a country-music family, I don't usually listen to traditional country. But Chris Stapleton is like the Stevie Wonder of Nashville. He has the most incredible voice I've ever heard on a human besides Adele. His songwriting and guitar playing are full of soul and tension. Lately, I've also been going back to my Tom Waits and Neil Young.
What's your favorite thing to do when you come back from a trip? I've always dealt with vocal issues from doing too many shows, so my favorite thing is jumping in my steam shower, pouring a giant cup of peppermint tea, exfoliating, and getting all the airplane grime off. Then I pile on the couch with my girls and just have quiet time. I used to love to cook right when I got home, but now I'm too tired to do that. So it's Postmates from a good restaurant and chilling with the family.
What's the best gift you've received lately? A friend of mine who is a photographer gave me this beautiful framed picture of the moon that he shot on the night Stella, my older daughter, was born. He included a letter he wrote about where the moon was in the sky that night and what that meant. It's the most thoughtful thing I've ever gotten.
What's next for you? I love to buy and flip houses—I love the architectural side of flipping. I'm passionate about redeeming old houses. All over the South there are so many beautiful old farmhouses that are falling apart and getting torn down. If I ever win the lottery I'll be buying every single one! My goal is to create the branded White's Mercantile farmhouse experience (starting with the farmhouse from Craigslist). People will be able to come to these very small towns, stay in a lovely decorate bed and breakfast, cook, and just hang out. It's fair to say within the next six months we're going to launch a number of branded rental experiences.
view article